Surveyors Rendezvous 2022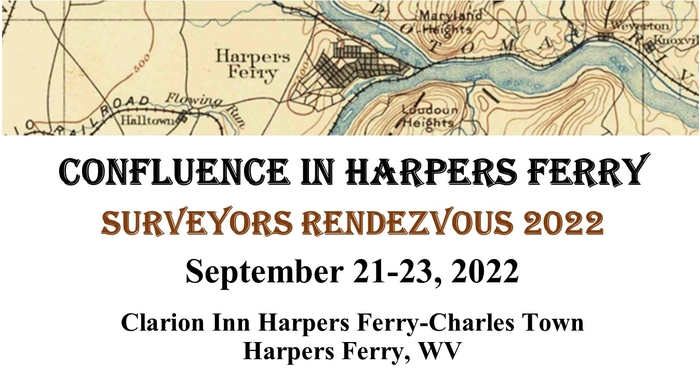 ONLINE RENDEZVOUS REGISTRATION
---
Hotel Information
4328 William L Wilson Fwy
Harpers Ferry, WV 25425
304-535-6302

~ The Rendezvous room rate is $99 plus tax and includes breakfast. Parking at the hotel is free.
~ To reserve your room, call the Clarion Hotel directly at 304-535-6302. Use group name Surveyors Historical Society for the Rendezvous rate.
~ The Rendezvous rate is available until August 29 or until the room block sells out.
---
Optional Saturday events added to Rendezvous 2022
The Planning Committee is pleased to announce several optional events have been added to Rendezvous 2022 in Harpers Ferry. These events will take place on Saturday, September 24 and have separate registration.
Ambassador's Tour - C&O Canal, Bench Mark "A" and Mason-Dixon Crownstones
Volunteers from the C&O Canal Association will provide a tour of Williamsport, MD that will include the Conococheague Creek Aqueduct, Lock 44, Lock 44 tender house, a railroad lift bridge, and a Bollman Bridge. Lunch will be Bulls & Bears in Hagerstown, MD followed by a walk to Bench Mark "A" with discussion provided by Dave Doyle, NGS Retired. As time permits, we will spend the afternoon visiting Mason-Dixon milestones 99, 100, 102, 103, and 105, two of which are crownstones, with discussion provided by Pat Simon, Maryland Surveyor and Mason-Dixon Extraordinaire.
The Ambassador's Tour runs from 8:30 am to 4:30 pm. The registration fee is $25 per person which includes transportation and lunch.
Click here to register for the Ambassador's tour.
Bike along the C&O Canal
Join fellow bikers on a leisurely ride on the historic C&O Canal towpath from Shepherdstown, WV to Harpers Ferry, WV. You can bring your own bike or rent one from Shepherdstown Pedal and Paddle for $80 per person.
Click here for all of the details. To register for this tour, please email Doug Bell at dbell@bls-pllc.com.
WVSPS Fall Symposium
The West Virginia Society of Professional Surveyors will hold their one-day Fall Symposium at the Clarion Inn Harpers Ferry on Saturday, September 24. The Symposium will feature popular seminars and topics relevant for West Virginia surveyors as well as those visiting from neighboring states.
Click here for Fall Symposium information and to register. Please contact the WVSPS office at wvsps@wvsps.org or by phone at 304-208-8970 with any questions about the Fall Symposium.
---
Thank you to our Rendezvous 2022 Sponsors!
Tours and transportation sponsored by
SHS Lifetime Member Lorna Hainesworth, Ambassador and National Traveler
Washington Sponsors
West Virginia Affiliate of Surveyors Historical Society
Jefferson Sponsors
Point to Point Surveying, LLC
Patrick and Deborah Simon
Sponsorships are still available. If you or your company is interested in sponsoring Rendezvous 2022, click here .